13 Photo Editing Software for PC (List)
The majority of people think that the word "PC" simply refers to only Windows devices. Though, the good news is that many Apple Macintosh devices, like the iMac and Apple Mac Mini, also belong to this group. The following are 13 great photo editing software solutions for PC (in no particular order) that will impress both professional and amateur photographers.
Top 10 Photo Editing Software for PC [Shortlist]
Luminar
Adobe Lightroom
Adobe Photoshop Elements
Exposure X6
Windows photo editor
ACDSee Photo Studio Ultimate 2021
Pixlr
Affinity Photo
GIMP
Paint.NET
---
1. Luminar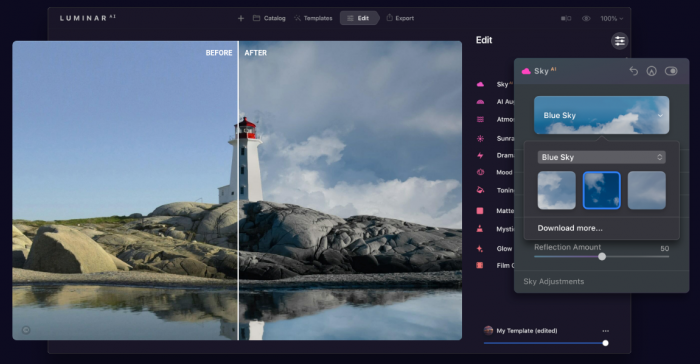 Luminar is a feature-packed software solution that uses artificial intelligence (AI) to make challenging editing tasks significantly simpler. With useful features like advanced masking, layered editing and batch processing, retouching your favorite memories is much easier.
After, all who has time to waste? Luminar understands that we are always rushed, yet do not want our edits to look like a rushed job. That being said, it also understands that functionality is not the only important aspect. It also boasts a modern interface that ultimately guarantees an overall positive experience every time that you open the software. Watch out, Adobe Photoshop, Luminar promises to deliver some serious competition!
Pros
It is simple to sync your edits
Your photos get organized automatically making it simple to navigate your way around
It requires a one-off payment that includes future updates instead of a monthly subscription fee (a pricing plan that many will welcome)
The interface is not only sleek, but also easy to understand and use
The AI slider is very handy and can help you to improve aspects like brightness and clarity
The exclusive filters that it offers are quite impressive
It can be used as a plug-in or stand-alone photo editing app
Cons
The export options need more TLC
---
Adobe Lightroom is an excellent alternative when you are searching for a tool that is less complicated than Photoshop. It boasts a wide range of great features such as blurring tools, customizable sliders, professional filters, presets and brush and gradient adjustments. All in all, you can trust this effective software solution to get the job done.
Pros
You can take RAW photos in HDR mode
It offers a handy texture slider feature that you can use to improve a subject's hair or skin
The interface is easy to use and understand
Cons
While it is easier to use than Photoshop, there is still a learning curve
---
If you are an amateur photographer who is searching for a tool that will still leave some room for creativity, Adobe Photoshop Elements will have you in your element. In a nutshell, the software employs artificial intelligence (AI) and then selects pics and videos that will create cool collages.
Pros
It boasts loads of cool templates
HEIF files are supported
Improvements to the home screen mean that it is now simple to access the features
Cons
It is not the easiest tool to use
You need an Adobe ID in order to use the software
---
4. Exposure X6
Exposure X6 is a RAW editing tool and professional digital asset management (DAM) program. It is similar to Lightroom and if you are used to using Lightroom you will find it easy to switch from Lightroom to Exposure X6. In short, it boasts all the top features of Lightroom.
Pros
It is very fast and responsive compared to other RAW editors available on the market
There is no need first to import the photos – you can just add your image folder as a shortcut to the program
It offers a useful opacity function that helps you to lessen the intensity of the editing effect
Cons
The user interface is not that modern
It does not offer built-in HDR and panorama tools
---
Editing for amateurs can be challenging. Luckily, with the help of Windows photo editor variety of effects, you can create enhanced photos that remain natural-looking. This built-in tool offers a useful features that uses classic algorithms that helps you to include more details and depth. Some of its other handy features include an exclusive tool that removes noise automatically, layers, masking and RAW support.
Pros
Its interface is easy to use and understand
It is easy to reverse edits and revert back to the original photo
It can be used as a plug-in or stand-alone app
The batch processing feature is quite powerful
Cons
It does not offer the complete range of features that you might have come to expect
---
6. ACDSee Photo Studio Ultimate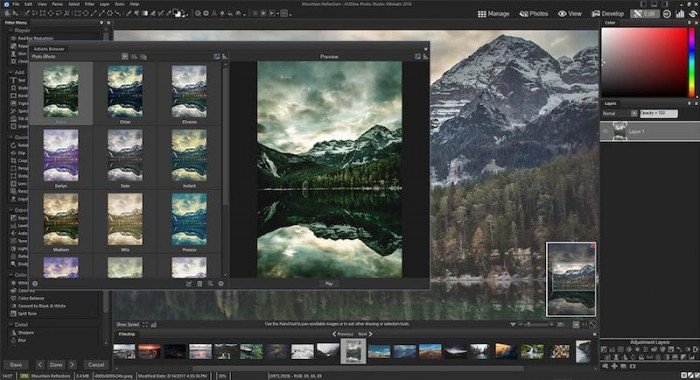 ACDSee boasts file management as well as sophisticated layer-based editing. Some of its features include improved face detection, RAW support and focus stacking capabilities.
Pros
Thanks to its HDR function, you can add many exposures in order to create a high-quality HDR photo
It has a blended clone feature that lets you remove distracting areas in a picture quickly
Cons
It is only compatible with Windows
---
7. Pixlr
This online photo editing app is one of the most intuitive tools. It might not be the most powerful software solution available on the market, but it still has what it takes to complete the standard editing tasks. All in all, it is a good software solution for those times when you need to make edits more quickly.
Pros
You do not have to download anything before you can start to use it
It offers a versatile drawing tool
Cons
Its options on offer are a bit limited
The interface is not that modern
---
Affinity Photo is a powerful software solution that offers a wide range of interesting features. Digital painting, focus stacking, batch processing and panorama stitching are just a couple of its popular features. All things considered, it is a great option if you do not want to get Adobe Photoshop. In fact, most of the tools that Photoshop offers, Affinity Photo boasts as well.
Pros
It supports RAW editing
It offers several impressive, yet practical, features
Cons
While it is cheaper than Photoshop, it is still rather expensive
Its user interface is not that intuitive compared to some of the other software solutions mentioned in this list
---
9. GIMP (GNU Image Manipulation Program)
If you are not sold on Photoshop, GIMP (also known as the GNU Image Manipulation Program) might be more towards your liking. It can basically complete all the tasks that you can complete with Photoshop. Some of its most popular features include color correction, painting tools, and enhancement. If you are simply looking to play around with filters or ready to get down to more serious retouching, GIMP can help you to create better photos.
Pros
It offers a big selection of tools and features
Tutorials are available
Updates are introduced on a regular basis
Cons
The multiple preset brushes do not boast the best design
While its user interface boasts great flexibility, the interface is a bit outdated
---
10. Paint.NET
At the beginning, Paint.NET was simply introduced as a replacement for Microsoft's all-time favorite Paint. Though, today it is actually a very nice photo editing tool. Not only is the user interface easy to use, but there is also an online network available that is ready to be of service should you encounter issues.
Pros
It offers several useful features and effects
The user interface is sleek
Cons
It is only compatible with Windows
It is not that powerful
---
11. AirMagic
Drone photography is gaining momentum. So, it makes sense to review a software solution that can help you take your aerial photography to new heights, so to speak. Plus, as challenging weather conditions can make it more difficult to capture decent photos, a good software solution specifically designed for drones is essential.
Similarly to Luminar AI and Photolemur, AirMagic also uses artificial intelligence (AI) and advanced algorithms to tweak your photos automatically. One of the features that makes it so great is that the software can identify which camera you have used with your drone and then modifies the lens corrections so that it suits that specific camera model. All things considered, it is a good tool to get if you would like to remove haze, improve color, emphasize detail and enhance the sky.
Pros
It can be used a stand-alone app or plug-in
Everything is automated (just drag and drop your pics)
It offers a variety of styles eliminating the need to purchase extra filters
Haze, in particular, is a common problem with aerial photography and so the feature to remove haze comes in very handy
It supports RAW file formats too
Cons
In some pictures, the color improvements might seem a bit too much
---
12. Topaz Labs
Topaz Labs is one of the simplest software solutions currently available. It also makes use of artificial intelligence (AI) and therefore appeals to photographers who want to embrace automation. With Topaz Labs, it is really straightforward to enhance aspects like colour and exposure. All you have to do is import your pics and leave everything else to the software (in fact, more or less 90% of Photolemur is completely automatic) .
Pros
It offers styles that you can use to personalize your pics
Its Face Finish technology is very innovative
You do not need any editing experience making it the perfect software solution for beginners
The batch enhancement feature is quite advanced
It supports several image file formats including RAW
Cons
---
13. Capture One Pro
Capture One Pro is one of the best alternatives to Adobe Lightroom. This photo editing software solution is powerful enough to keep professional photographers happy and boasts the features that you have grown to expect. Some of its awesome features include image cataloging, keystone adjustments, RAW image file processing, and layers.
Pros
It offers a wide range of features
It boasts interface customizability
It is especially great for color rendering
The highlights and shadows sliders offer an excellent range of tone control
Cons
The learning curve is quite steep
At this moment, it only offers support for three plug-ins
It does not offer any native HDR options
It is not the best tool for organization
---