Best Instant Photo Camera
So, shortly, what is an instant camera?
Instant camera – is a type of camera that allows you to capture and print a photograph immediately after taking it. This unique gadget has gained popularity among travelers and tourists who are looking for a fun and nostalgic way to document their trips. Unlike digital cameras or smartphones, instant cameras produce physical prints instantly. With just a click of a button, you can watch in awe as your picture develops right before your eyes.
Despite all the advances we are seeing on a regular basis in the world of DSLR and Mirrorless camera technology, there is something about the instant nature of a Polaroid camera or an Instax camera that still captures the hearts of many around the world. You can't always do much of what is possible with a DSLR if you're shooting with a Polaroid camera, like experimenting with double exposure in photography, but that doesn't mean you shouldn't take a Polaroid picture every now and then just to capture that particular moment. Polaroid film images, other than having a sense of joy to them because of their unexpected nature, have a unique look to them as well that can't quite be replicated with a heavy DSLR.
If you're looking to get your hands on a Fujifilm Instax camera, or any other Polaroid instant camera, this buying guide is the right place for you to be.
Major Camera Producers – Polaroid and Fujifilm Instax
While other companies like Lomography also make instant cameras, the most popular ones are Polaroid cameras and Instax by Fujifilm. Vintage Polaroid cameras can be found in many thrift stores as well as through online retailers, but they are generally expensive due to their vintage nature and the fact that Polaroid cameras and Polaroid film is regarded as the best by many.
Fujifilm, on the other hand, makes a number of Instax models. These Fujifilm Instax cameras are some of the best you can buy today, as they are still being produced in large quantities with new features. Instax film is also being sold similarly directly via Fujifilm. When you buy a Fujifilm Instax, like the Fujifilm Instax Mini 8 or Fujifilm Instax Mini 9, you are sure to be getting a high quality and easy-to-use instant camera. But whether you buy a Polaroid or Instax camera, you are guaranteed a unique experience that you can't get with a DSLR.
Polaroid Instant Camera
1. Polaroid OneStep+: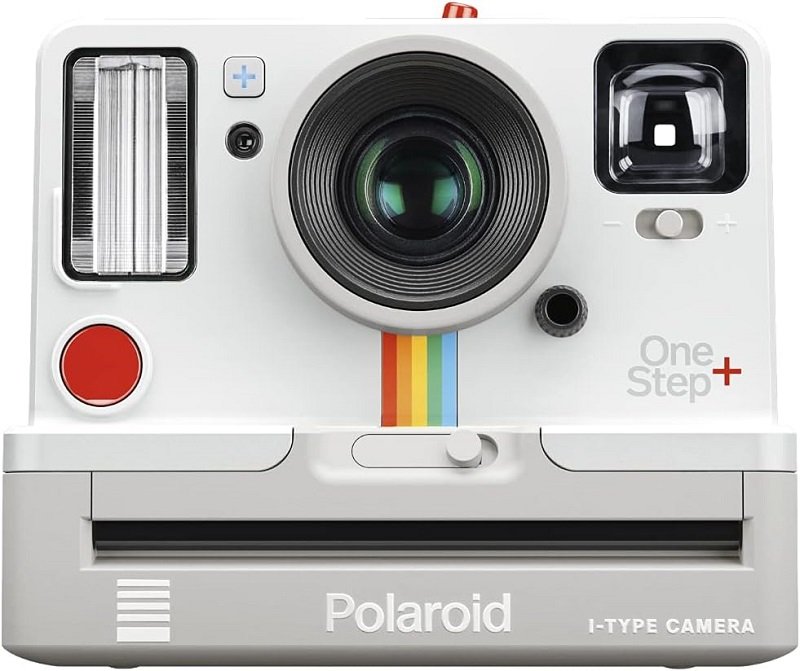 Pros: The OneStep+ is a modern take on the classic Polaroid camera, featuring advanced features like Bluetooth connectivity, allowing you to control the camera remotely through a smartphone app. Its improved lens and built-in flash ensure high-quality photos every time. The camera also offers a variety of shooting modes, including portrait, double exposure, and light painting, providing endless creative possibilities for your snapshots.
Cons: The OneStep+ can be a bit pricey compared to other instant cameras on the market. Additionally, the reliance on a smartphone for certain features might not appeal to everyone.
2. Polaroid Now:
Pros: The Polaroid Now is a user-friendly instant camera that delivers stunning images with its autofocus feature, ensuring that your subjects are always sharp and in focus. It also boasts a self-timer, double exposure capabilities, and a built-in flash that automatically adjusts based on the lighting conditions. The camera's sleek design and vibrant color options make it a stylish accessory for your travels.
Cons: Some users have reported inconsistency in exposure and color accuracy, which can be disappointing when capturing important moments.
3. Polaroid SnapTouch:
Pros: The Polaroid Snap Touch combines the nostalgia of instant photography with the convenience of digital technology. This camera not only prints photos instantly, but also allows you to save them digitally with its built-in memory and microSD card slot. It features a 13-megapixel sensor and a touchscreen display for easy navigation. The Snap Touch offers various creative options, such as filters, borders, and stickers, to add a touch of fun to your photos.
Cons: The print quality of the Polaroid Snap Touch is not as high as some other models, and the touchscreen can be slightly unresponsive at times.
No matter which instant camera you choose, be sure to stock up on compatible film packs to ensure you capture all of your Nashville memories. Additionally, consider investing in a camera case or bag to protect your camera during your travels.
Fujifilm Instax Film
In order to take a Polaroid picture with a Fujifilm Instax camera, you need to use one of the many Fujifilm Instax films available. Fujifilm is renowned for its high-quality instant cameras that capture moments in a unique and nostalgic way. If you're a traveler or tourist looking to enhance your photography experience in Nashville, here are the three best Fujifilm instant cameras that are perfect for snapping those memorable shots:
4. Fujifilm Instax Mini 90 Neo Classic:
The Instax Mini 90 Neo Classic is a versatile instant camera that offers a range of innovative features. Its retro design adds a stylish touch to your photography adventures. The camera's high-performance flash and advanced shooting modes allow you to capture stunning images in various lighting conditions. Additionally, it comes with a rechargeable battery, making it a convenient choice for travelers. On the downside, the film packs for this camera can be a bit pricey, and the controls might take some time to get used to.
5. Fujifilm Instax Square SQ6:
The Instax Square SQ6 is a compact and stylish instant camera that captures square-shaped photos. It boasts a range of shooting modes, including landscape, macro, and double exposure, allowing you to experiment with your creativity. The camera also features a selfie mode and a built-in flash, ensuring that your selfies turn out perfectly even in low light conditions. However, the film for the Instax Square SQ6 can be costly, and the camera doesn't have a rechargeable battery.
6. Fujifilm Instax Mini 11:
The Instax Mini 11 is a user-friendly and affordable instant camera that is perfect for beginners. It features automatic exposure and a built-in selfie mode, making it easy to capture beautiful photos with just a press of a button. The camera also has a small and compact design, making it convenient to carry around during your travels. Additionally, the Instax Mini 11 comes with a built-in flash and a close-up lens attachment for capturing detailed shots. However, it does not have advanced shooting modes like the other two cameras mentioned above.
Instant Camera Film Types
When it comes to choosing the right film for your instant camera, there are a few options that stand out from the rest. Here are three of the best instant camera film types:
1. Fujifilm Instax Mini Film:
This film is a favorite among instant camera enthusiasts. It produces vibrant, high-quality prints with excellent color reproduction. The Instax Mini film is available in various designs and borders, adding a touch of creativity to your photos. It develops quickly, allowing you to see your memories come to life in just a few minutes.
2. Polaroid Originals Color Film:
For those seeking a nostalgic and vintage look, Polaroid Originals Color Film is a fantastic choice. It recreates the iconic Polaroid style with its distinctive square format. The film offers rich, saturated colors and a classic white border, perfect for capturing timeless moments with a retro vibe.
Features and Technical Limitations of Polaroid Cameras
Using a Polaroid camera isn't always fun. In this day of social media, most people taking photos want to upload them online to share with friends and family. A Polaroid instant camera doesn't allow you to do that. However, anyone wanting to explore the Polaroid template shouldn't expect to do that either, as the whole idea is to share photos with people physically rather than through a screen.
The more significant limitation of using a camera designed according to the Polaroid template is that it probably won't give you complete control over your exposure and focus. There really isn't much that you can do from a technical point of view with a Polaroid or Instax camera to make photos look exactly how you want. A few pricey Polaroid camera models offer a good amount of control, but not everyone would be able to purchase those. Despite those limitations though, you could check out some tutorials like low key lighting and composition to ensure you can take a great photo.
What is the best instant print camera for kids?
1. Fujifilm Instax Mini 9: This camera is perfect for kids due to its simplicity and vibrant colors. It features a selfie mirror and a close-up lens attachment, making it easy for kids to take great selfies or close-up shots. The Instax Mini 9 also has a high-key mode that allows for brighter photos, which can make the prints even more fun and exciting for kids.
2. Polaroid Snap: This camera combines the nostalgic feel of instant photography with a modern twist. The Polaroid Snap allows kids to capture and print their photos instantly, but it also has a digital sensor that allows them to view and edit their images before printing. It's a great option for kids who want to experiment with different filters and effects.
3. Kodak Printomatic: The Kodak Printomatic is a simple and straightforward camera that is perfect for kids who are just starting to explore the world of instant photography. It has a built-in printer that produces 2×3-inch prints, and the camera itself is lightweight and easy to use.
Instant camera vs Classic DSLR
An instant camera is a type of camera that produces a print of the photo you've taken right away. This means that you do not need a second device to help take the print as you would with your DSLR camera. The most well-known brand of instant cameras is Polaroid, and they've had the best processors in their line of instant cameras. That is the reason many people know instant cameras simply as Polaroid cameras.
In order to take instant prints, you need to have instant film. Other than Polaroid film, Instax film by Fujifilm is also very popular. When a Polaroid camera is loaded with Polaroid camera film or an Instax camera is loaded with Fujifilm Instax film, you can start taking photos.