Free photo editing software will always have clients. Today, the demand for photo editing and retouching products is very high and software has recorded significant development in the area. Everyone can edit photos using a laptop or mobile devices. Photo editing software has to be multifunctional and provide tools for beginners and professional users.
Adobe Photoshop may be the best choice among the photo editing programs but it's expensive and needs a lot of learning time. It's designed more for advanced users and many of its features aren't useful for an average user. So instead of buying a complicated program that you don't entirely use, is better to look for a free photo editor that provides all that you need.
The best free photo editors offer useful features such as removing red-eyes, resizing, black and white conversion, effects, presets and styles, textures, tools for creating collages, and tools for image retouching. The following list includes some of the best free photo editing software available for Windows.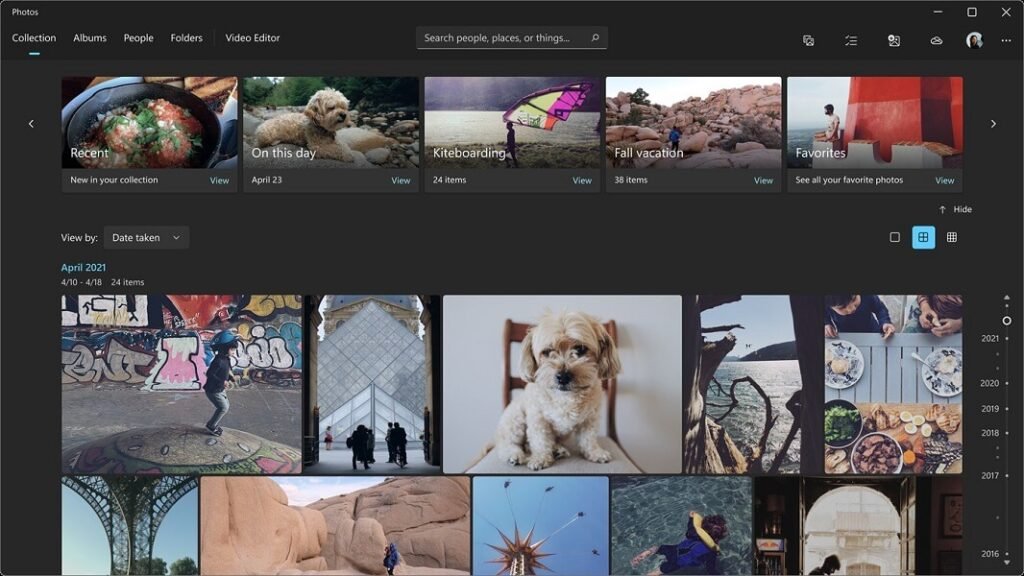 Microsoft Photos couldn't miss from the list of best free photo editing software for Windows. It's an excellent free picture editing software, built-in with Windows 10. Microsoft Photos provides basic adjustments like exposure and color corrections, highlights and shadows adjustments, and clarity control. But what makes Photos stand out is its wide range of attractive presets that allow you to change the look of your images in seconds.
Microsoft Photos goes beyond being a free photo editing software by including video editing tools. You can make clips, trim videos, add titles and effects, and even add background music to your video.
2. Luminar (7 days free)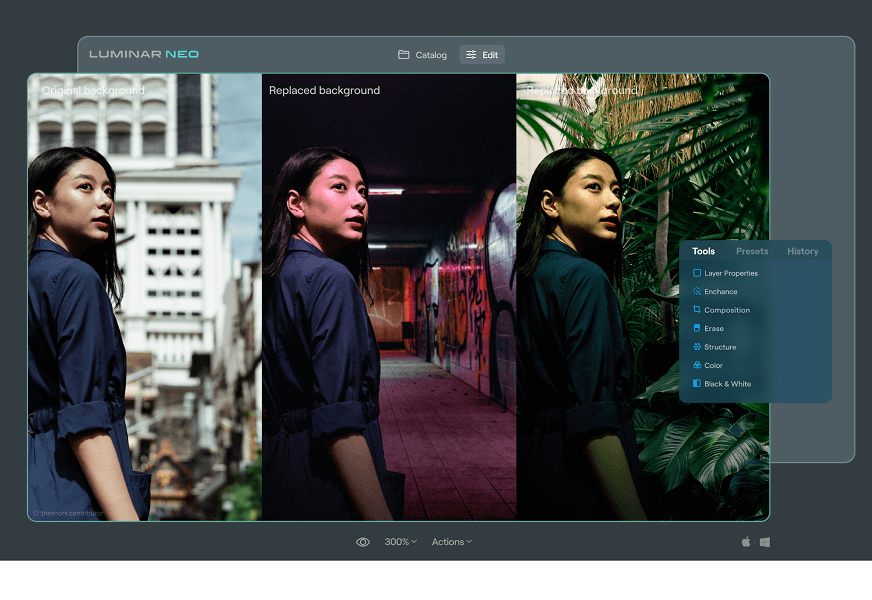 Although it has a good price, Luminar isn't a free photo editing software. But it has a trial version you can use for free and fall in love with the features of Luminar.
Designed for photographers, Luminar provides all the tools you need for photo enhancement and retouching. It has over 70 filters, grouped in intuitive categories, which allow you fix any type of photo, create atmosphere, or add special effects. Luminar also provides endless Looks, presets that completely transform a picture. You can find Looks for landscapes, portraits, aerial shots, black and white photos, and many more. And if you don't find what you need, you can always download more free Looks from Luminar Marketplace.
Luminar works with layers and masks, provides geometric transformations, and allows you to save your settings as a custom Look. It also offers outstanding digital assets management, batch processing, and a customizable interface. And all its features are available in the trial version.
Luminar is powered by Artificial Intelligence and provides automatic image enhancement tools like AI Sky Enhancer and Accent AI Filter. It detects objects and faces in your image and decides what adjustments are best for them. And you can fine-tune everything using just a slider. Its free trial is a great opportunity to see what a professional photo editor can do.
3. GIMP (Free)
GIMP is one of the best photo editing software for Windows because is a complete photo editor that rivals Photoshop in terms of capabilities and features. It provides everything you need, from basic image corrections like exposure control and white balance to advanced editing tools like Transform and Heal. It also provides RAW support, which not many free editors can do.
Before the 2.10 update, many considered GIMP a complicated program because of its interface. But now GIMP has finally changed its look and workflow and became an attractive and modern photo editor.
GIMP also provides a wide range of filters that help you edit photos in seconds. Overall, it's one of the best photo editing software for Windows, it's free, it's easy to download and install, and can face Photoshop anytime.
4. Lightroom (7/14-days trial)
Adobe Lightroom has only a free 7-day trial but it's cloud-based and offers a professional online editor. You can use it with mobile devices and work remotely, quickly fix your images, and share them with your client. Otherwise, Lightroom is an expensive solution, which costs $9.99 per month for a year.
In terms of photo editing, Lightroom gives you control over each aspect of an image, amazing presets, geometry tools, and a neat, fluid workspace. It has a wide community of photographers and trainers around it, which makes it easy to learn and comfortable to use. Among other features, it's worth mention shift focus, selective edits, noise reduction, healing brushes, and a wide range of special effects. Lightroom was designed for professional photographers, with complex image organizing capabilities and professional photo editing tools.
5. Photolemur (Full free with watermark)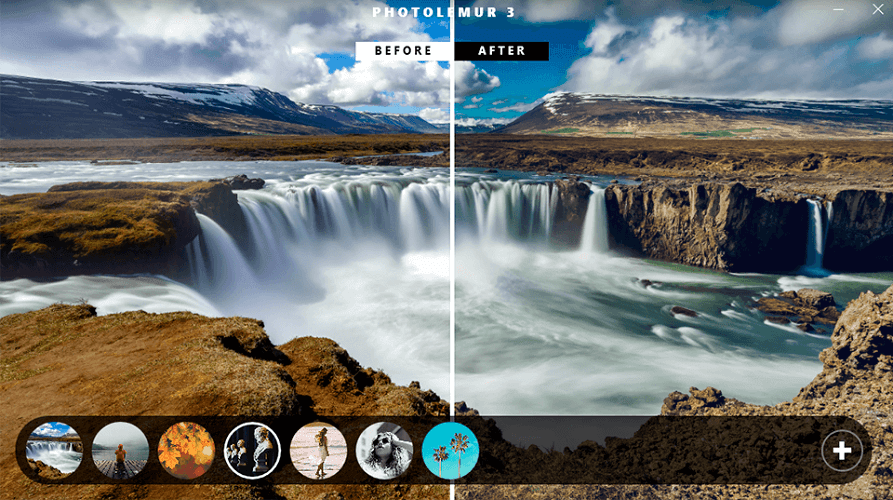 Photolemur has a free version that only allows you to export images with watermark. But it's a small price paid for the amazing automatic features of this photo editing software. It analyzes your photos and automatically adjusts it using powerful Artificial Intelligence algorithms.
Photolemur provides features such as color recovery, sky enhancement, foliage enhancement, noise reduction, exposure compensation, tint perfection, lens correction, dehaze, and natural light correction. It's capable of enhancing any type of photo but has dedicated tools for face enhancing and skin retouching. It's a great editor for beginners and professionals with little time to spare. Instead of spending hours editing photos, use a smart editor and take more time for creative activities.
Photolemur isn't expensive software and has a traditional license. The full version offers batch processing, RAW support, and many other filters and features. It's available as a standalone software, Photoshop and Lightroom pugins, and Apple Photos extension.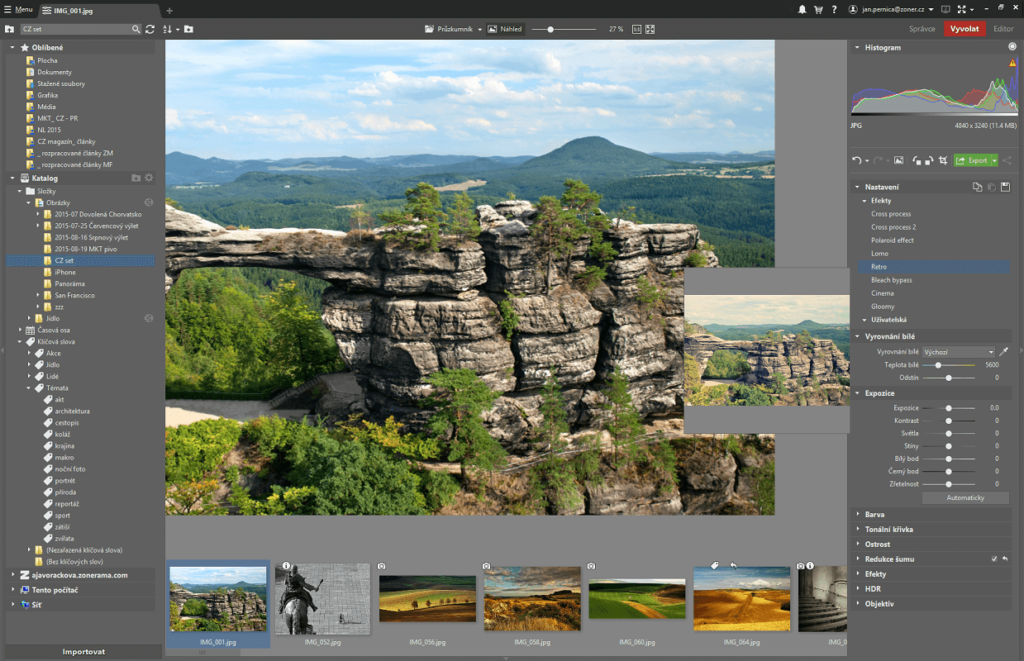 Zoner Photo Studio Free is the 18th version of Zoner Photo Studio and was released in 2016 as free software. It's still available for download. However, the newer version, Zoner Photo Studio X provides much more features but is no longer free. Choose to download the older version and you'll get the newer one for a 30-days trial and then the older free version.
Zoner Photo Studio 18 provides many modern features such as organizing tools, masks, filters, gradients, tools for highlighting, removing noise, adding frames, and correcting perspective, support for HDR, and tools for capturing the screen, batch processing, and creating video slideshows.
You can choose to compression your images and save the originals in the cloud. You receive unlimited server space and an address with an easy to remember name (for example, myphotos.zonerama.com)
Despite the fact that editing capabilities are limited compared with the professional version of Zoner Photo Studio, the free version is quite impressive. It allows you to change image resolution and canvas size, add text, overlay images, add effects, make color correction, sharpen images, and work with shutter speed and white balance. Zoner Photo Studio is one of the best free photo editing software you can try.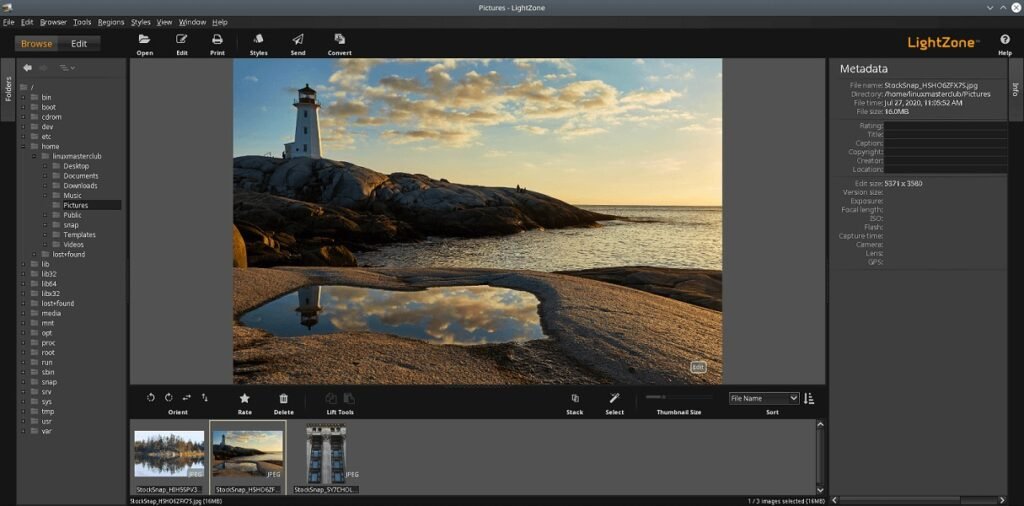 If you're looking for the best photo editor for Windows that is free and can handle RAW files, then LightZone may be the perfect solution for you. This photography editing software was recently made open source, which means you can start using it right away and edit your RAW files without having to buy a premium photo editor for Windows.
LightZone allows you to start editing your photos by choosing one of its many 'Styles'. These are presets that combine different settings and give your photos a starting look you can then transform. Among Styles you'll find Soft Skin Tones, Bright Scene, Midtones Sharpening, Crisp, and Soft Toning. Each style has a distinct look and works best on a specific type of photos. There are also styles that improve your image such as Sharpen, Hue/Saturation, Noise Reductions, and Black and White. You can fine-tune each style to create your artistic vision.
All these features make LightZone a very compelling free picture editing software.
For those looking for a simple and free image editing software, Paint.Net is a good solution. Over the years, the software has turned into a very capable image editor that rivals the best photo editing software for Windows.
It provides a very good user interface and doesn't try to mimic Photoshop like many other free programs do. It rather keeps things simpler and logical. Paint.NET offers many image enhancement tools like Curves and Levels, layers, blending modes, and creative tools. It also provides more advanced tools like Clone Stamp, which makes Paint.Net a force to be reckoned in the space of free photography editing software.
What puts Paint.Net in the list of best free photo editing software is the fact that its capabilities can be enhanced by using a wide selection of plugins. It has an active community of users that supports the constant growing of plugins list and the editor's improving.
Photo Pos Pro is a free image editing software that has a lot to offer. It has a customizable interface that appeals to both beginners and advanced users. It has an online community where new users learn how to use the program and ask for help. It has a number of image editing tools that let you enhance your photos. And it also has graphic design capabilities that allow the creation of collages, business cards, and more.
Photo Pos Pro provides basic image editing tools such as exposure adjustments, white balance settings, color correction, and saturation control. Photo Pos Pro also offers filters like Sharpness and Blur, layers, and creative effects.
So, if you're looking for a picture editing software that provides basic editing and some neat advanced tools, then Photo Pos Pro is definitely worth a look.
PhotoScape X may not be the best free photo editing software you'll ever use. But it provides easy ways to add filters and make basic image adjustments. For example, the Magic Color filter is really good for enhancing colors without making them look artificial or exaggerated. Another good example are the Light Leak effects that add a vintage look to your pictures.
Among the tools of PhotoScape X are Cut Out for removing the background of an object, Combine for overlaying multiple photos, GIF Creator for making animations, Split for dividing a photo into smaller pieces, Photo Merge for basic HDR creation, and Frames for adding fun borders.
PhotoScape X is a basic photo editing software and can't overtake editors like Photoshop. Still, it's a fun editor that can help you do basic adjustments and add creative effects to your photos.
11. Pixlr (Online image editor)
Pixlr definitely deserves a place on the best photo editing software for Windows list. It's an online editor that can be used with a wide range of browsers and devices. You only need internet connection to load the page. After that Pixlr works on your device and doesn't need connection anymore.
Pixlr has a Photoshop-like interface that you can customize and many image editing tools. Among its features are exposure controls, white balance adjustments, sharpness, blur tools, color corrections, contrast adjusting, and shadows and highlights settings. You can work with layers and masks as well, which really takes Pixlr's capabilities to the next level. It also provides curves and levels adjustments, keyboard shortcuts, and plenty of fun filters.
Overall, Pixlr is a very capable and easy to use free image editing software. You can use it anywhere and anytime and it's particularly useful for editing pictures on location and sending them quickly to your clients.
12. RawTherapee
Another free editor for Windows is RawTherapee. It provides non-destructive RAW editing and many other features that make it similar to Adobe Lightroom. Free photo editing software doesn't usually have all the features that RawTherapee offer and that's why it's on our best photo editing software for Windows list.
RawTherapee offer exposure, white balance, and color adjustments, shadows and highlights settings, and other image enhancement tools. The only thing that's missing is digital assets management.
You can use RawTherapee with GIMP by default and make more creative changes to your exported RAW files. We've really appreciated the possibility to export files directly into a free complex photo editor.
13. DarkTable
The list of free photo editing software wouldn't be complete without DarkTable. It's one of the best free photo editors for Windows that supports RAW files. DarkTable provides plenty of RAW editing tools that somehow clutter the interface. Still, after you get used to working with them you'll see only the benefits of having a wide range of tools.
If you compare Darktable with Lightroom, which many say is the best photo editor for Windows that provides RAW editing, you'll see that DarkTable offers many of Lightroom's features. It also produces similar results when you use the same settings, which is the proof of its amazing capabilities. The only Darktable's drawback is a less streamlined design that requires more time for making the same edits. But if you consider that DarkTable is a free picture editing software and Lightroom is quite expensive, you can make this little compromise.
14. InPixio
InPixio is a free photo editor for Windows that aims to be the best photo editing software for those looking for a complete solution. It has three distinct parts: The Photo Eraser, The Photo Cutter, and The Photo Editor. The Photo Eraser allows you to remove different objects from your photos to make them look cleaner or bring more focus to the main subject. The Cutter allows you to remove the background from your photos, which can be great for design work or for commercial photographs.
The Photo Editor is where you edit your photos. From simple adjustments to brightness, contrast, and saturation to applying vintage effects, there's a lot happening in the Editor part of the suite. However, to gain access to the Editor, you have to get the Pro Version of InPixio, which isn't free. Regardless, the free version of the program offers useful features you can use for object or background removal – things that many of us need from time to time.
15. Inkscape
Inkscape is an open-source picture editing software that is more useful for graphic design than for photography. It provides a variety of tools that allow users to edit vector images, similar to Adobe Illustrator. Tools like Shapes, Paths, Clines, Transformation, and Text make Inkscape a very capable vector graphics editor but you can use it as a photo editor as well.
It may not be the free professional photo editing software you were hoping for, but it's still a very good software that deserves to be on the list of the best free photo editing software available today. If you're a graphic designer and want an alternative to the expensive Illustrator, then try Inkscape.
For now, we end here our list of the best photo free photo editing software available for Windows. Free photo editors are usually considered mediocre in comparison with the paid options but that's not always the case. Yes, paid editors have more features and often better support from the manufacturers, but that doesn't mean that free photo editors don't offer enough. As you can see from the above list, there are many free professional photo editing software that can be used to apply filters and effects, to enhance images, and even to edit RAW files.