ON1 Photo RAW Alternatives
Explore ultimate photo editing workflow with the alternative photo software for Mac.
For over 15 years, ON1 has been producing award-winning software dedicated to professional photographers. Their products have become more complex and efficient with each version. In October ON1 launched ON1 Photo RAW, a complete software solution that aims to be the only photo organizer and editor you need.
ON1 Photo RAW preserves the original mission of ON1: to give users full control over the image editing process and to provide tools and functionalities for working each aspect of an image. The new version offers tools for editing, organizing, and sharing images, addresses equipment challenges, and responds to technological innovations. ON1 Photo RAW is available for Windows and Mac and costs $99.99.
---
What's new in ON1 Photo RAW?
ON1's photo editor supports over 800 camera models and offers RAW editing, HDR processing, and panorama stitching. It works with layers and masks, provides local editing and focus stacking, and includes non-destructive and editable photo effects and creative assets. What else could the new version possibly offer?
ON1 Photo RAW brings functionalities powered by artificial intelligence (AI), new camera profiles and improved decoding of RAW files, and a dedicated module for printing services. Moreover, it improves speed and performance, offers more efficient noise detection, adds new effects, and integrates with SmugMug.
AI-based features are the latest innovation in photo editing. They provide custom edits based on image content and deliver natural-looking results. ON1 Photo RAW offers two AI-based tools: AI Auto Tone, for enhancing color and tone, and AI Match, for reducing the gap between what you see on the camera's screen and the monitor. ON1 has already announced that future free updates will include other AI-based features such as sky replacement, object recognition, and skin retouching.
To keep up with the latest trends, ON1 Photo RAW also includes over 100 new looks and four new filters: Color Balance, Weather, Channel Mixer, and Sun Flare. They cover different types of photography, such as landscapes, portraits, real estate, commercial, architecture, and fine art.
The image organizer has new functionalities too. ON1 now automatically creates timeline albums and organizes images by year, month, and day. It can also localize your images and add location metadata. ON1 Photo RAW allows you to compare up to 15 photos and helps you decide which one is the sharpest by marking the areas of best focus in each image.
---
Best ON1 Photo RAW alternatives
ON1 Photo RAW is a powerful competitor on the photo editing market. But it's not the only complete photo editing solution you can find. More and more editors include digital asset management, AI-based functionalities, and edits for creative effects. Check out the following ON1 alternatives and decide which editor is best for you.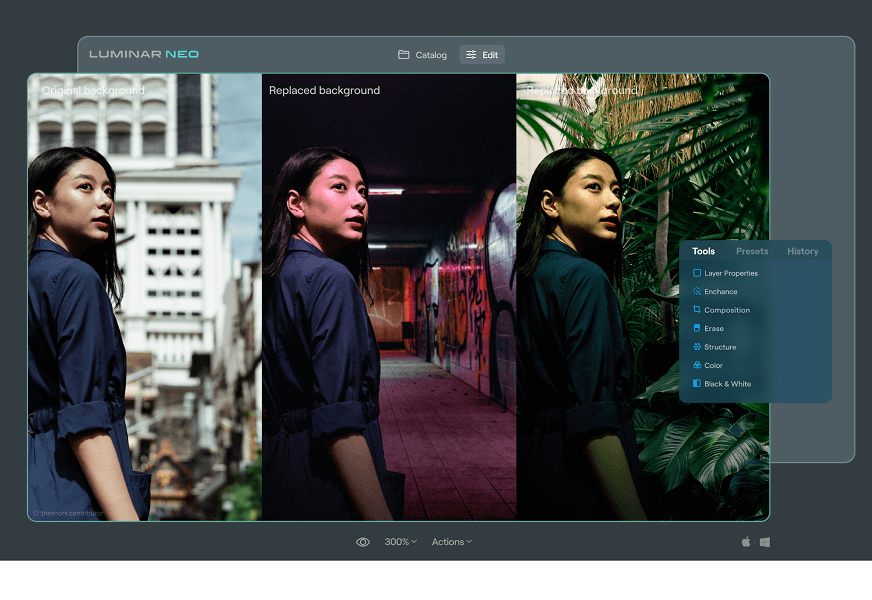 Like ON1, Luminar is a complete software solution for editing and organizing images. It provides batch processing, intuitive image search and ratings, and a fluid editing workflow. Luminar is easy to learn and use and is appreciated by both beginners and advanced photographers.
When comparing Luminar versus ON1, Luminar wins in the AI-based features department. Luminar 4 provides AI-powered tools for sky replacement, skin retouching, automatic image enhancement, and sun ray effects. It also comes with AI Structure — a tool that detects which parts of an image need a detail boost and provides content-aware sharpening — and offers smart contrast adjustments that preserve color and details to deliver natural-looking images.
Luminar is also better in terms of predefined looks. Out of the box, it comes with more than 70 Signature Looks designed by professional photographers, and you can download others from the Luminar Marketplace — many are free. You can also create your own unique Looks and share them with the Luminar community.
Luminar 4 is available as standalone software for Windows and Mac as well as a plugin for Adobe Photoshop and an extension for Apple Photos. It costs €79.
---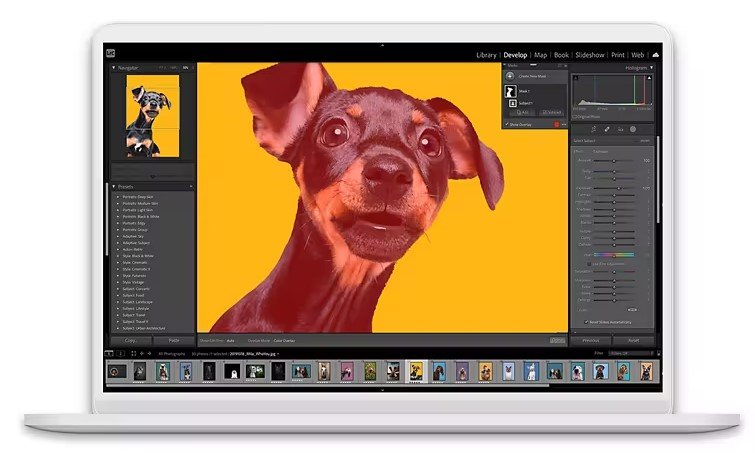 Adobe Lightroom is a renowned photo editor and a powerful ON1 alternative. In a comparison of Lightroom versus ON1, Lightroom will win in the image management department. It not only provides straightforward tools for organizing, rating, searching, and displaying your photos but allows you to edit your photos on the go, offers 1TB of cloud storage, and provides for easy sharing.
Adobe Lightroom isn't designed exclusively for photographers. It includes tools for creating web pages, videos, and graphics. But it also includes many photo editing tools, effects, and presets. For example, it provides tools for geometric transformations, color adjustments, sharpening and focus shifting, and making selective edits. It also provides camera profiles, lens correction, and tethered shooting. For full RAW support, you need to install an additional plugin.
You can try Adobe Lightroom free for just seven days. It's available for Windows and Mac, and a monthly subscription costs $9.99.
---
Topaz is an advanced HDR editor that uses artificial intelligence to deliver high-quality images in seconds. The latest version, Topaz, creates natural-looking images without halos or artifacts. It provides more than 20 tools for HDR editing including for increasing clarity, LUT mapping, color toning, denoising, and enhancing details. Moreover, it supports RAW files, offers batch processing, and works with layers and masks for maximum control.
Topaz includes more than 80 looks designed in collaboration with professional photographers. Looks are sets of adjustments that transform your images according to a specific style. They can be used as they are or fine-tuned to match your artistic vision. Topaz shows amazing performance, especially for nature and architectural photos.
You can use Topaz as standalone software, a plugin for Adobe Photoshop and Lightroom, or an extension for Apple Photos. It's available for Windows and Mac and costs €99.99.
---
DxO PhotoLab is a complete software solution for professional photo editing. The latest version, DxO PhotoLab, supports RAW formats from more than 400 camera models. Its tools give total control to the photographer and deliver natural-looking results.
Among its best features are an HSL tool for color management, a new DxO ColorWheel for fine-tuning color values, DxO ClearView for removing haze and brightening the horizon, DxO Prime for denoising, optical corrections for more than 42,000 combinations of camera models and lenses, and U-Point technology for local editing. DxO PhotoLab also includes more than 40 presets, filters, and brushes. Besides, you can install the Nik Collection, a set of seven plugins for specific purposes.
In terms of digital asset management, DxO PhotoLab offers PhotoLibrary, a tool for organizing, labeling, and searching images. It works with keywords and metadata, exports a wide variety of formats, shares your photos to social networks, and supports batch processing.
DxO PhotoLab is available for Windows and Mac and costs €99.99.
---
GIMP is a free and open-source cross-platform image editor. It has both graphic design and photo editing features, but it lacks digital asset management. Due to its large community of developers, GIMP is frequently updated.
Similarly to ON1, GIMP offers tools for retouching photos and creating artistic compositions. You can use it to remove or clone objects, make geometric transformations, adjust color, contrast, white balance, and exposure, apply filters and textures, and reduce noise. It works with layers and masks and provides non-destructive editing. You can also use it to make selections and apply adjustments to specific parts of an image.
GIMP is available for Windows, Mac, and Linux.
---
Capture One is a competitive ON1 alternative that provides powerful tools for image management and professional editing. The standard version of Capture One supports a range of cameras, but the company also sells versions at lower price points that are tailored for Sony and Fujifilm cameras. Because of its focus on the specifics of each camera, Capture One gives you full control over the editing process and high color accuracy.
Among the best Capture One features are optimized RAW editing, lens profiles for preserving details and minimizing distortions, and fast and flexible tethered capture. It works with masks and layers and provides image retouching functionalities such as exposure, contrast, and saturation adjustments, a Levels tool, RGB curves, individual channel curves, Luma and Film curves, and clarity and structure tools.
Like ON1, Capture One comes with built-in style packs for achieving a specific look in seconds. You can use styles in their original form or modify them to create your own unique styles. Also, Capture One allows you to install third-party style packs.
For those looking for an efficient image organizer, Capture One's tools and solutions for digital asset management cover day-to-day tasks and work with large collections of images. Capture One provides image searching, rating, and organizing tools, high-volume image export, support for the Photoshop file format, and the ability to copy adjustments across images.
Capture One is available for Windows and Mac. The latest version, Capture One Pro 12, costs €349 or €29 per month.
---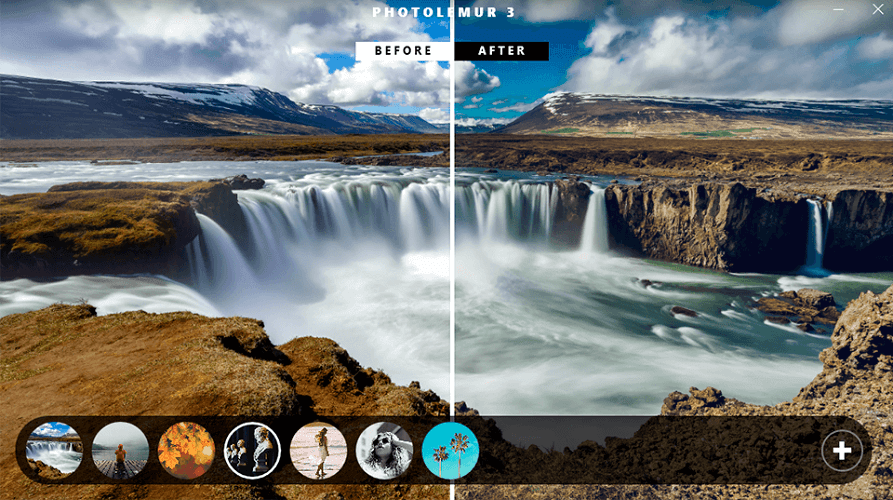 If ON1 is too complicated for you, Photolemur is an ON1 alternative you should consider. Photolemur is designed for the general public and offers batch processing and automatic photo editing tools. With AI-based algorithms, Photolemur is easy to use, intuitive, and delivers high-quality pictures.
It detects faces and people and applies custom adjustments for each type of image. For example, for portraits, Photolemur can automatically smooth skin, enhance eyes, and whiten teeth. Photolemur 3 also offers plenty of predefined styles to choose from.
Photolemur is available for Windows and Mac. It costs €35, but you can use it for free with a watermark.
---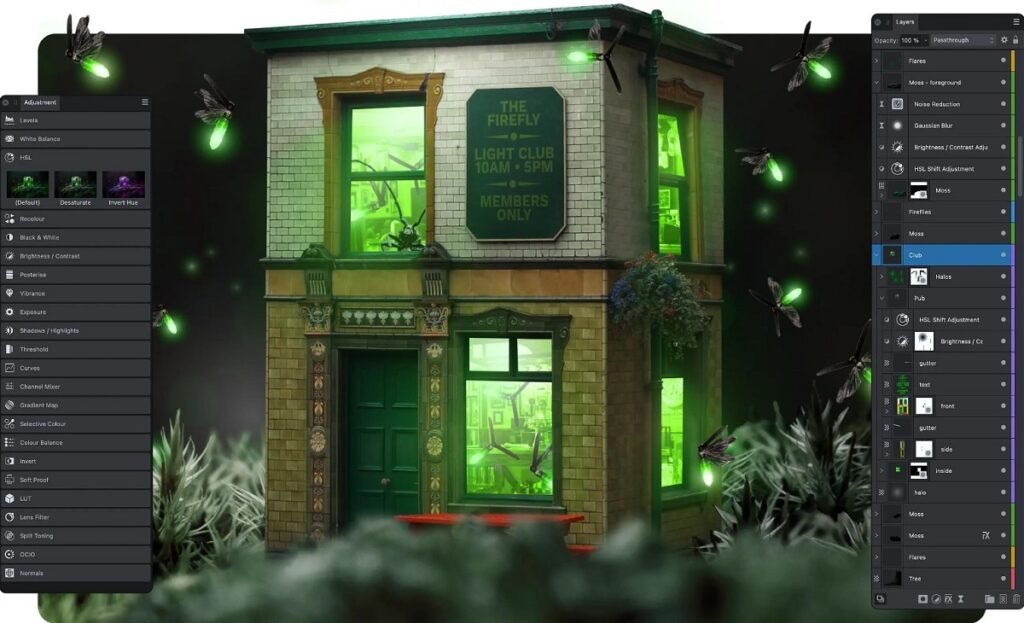 Affinity Photo aims to be not only an efficient and accurate photo editor but also fast and precise. It offers RAW editing, HDR merging, focus stacking, panorama stitching, and 360-degree image editing. Affinity Photo works with large images (more than 100 megapixels) and provides smooth zooming at 60fps.
Among its best features are precise selections, support for multiple layers and layer effects, lens correction, noise reduction, non-destructive filter effects, tools for smoothing and retouching skin, and tools for fine adjustments (levels, curves, white balance, HSL, etc.). Moreover, Affinity Photo includes a large library of brushes and provides fluid painting tools. It supports graphics tablets and allows you to combine brushes and import new ones.
While it offers batch processing, Affinity Photo lacks digital asset management. Nevertheless, it's a fast photo editor with creative functionalities and a straightforward workflow. Affinity costs €53 for Windows and Mac and €21 for iOS.
---
Advantages and drawbacks
Most photographers use a single photo editing software solution. They look for software compatible with their computers and cameras. They want a photo editor that fits their workflow and skill level and allows them to deliver high-quality, natural-looking images. It's also important to have image organizing and editing tools in the same application. If you prefer editing your photos on the go, consider an editor that's accessible from many devices and offers cloud storage. And don't forget to consider your budget, as professional image editors may be expensive and additional plugins or style packs can increase the cost.
To help you decide if you prefer ON1 or one of its alternatives, check out the advantages and drawbacks of each of them. This is a quick method to spot the editor that checks most of your requirements.
---
ON1 Photo RAW
+ Dedicated to professional photographers; supports over 800 camera models and tethered shooting for Nikon and Canon cameras; provides a wide range of manual controls
— Complicated workflow; requires time to learn and practice before you can use it to its full potential
---
Luminar
+ Strong AI-based features; hundreds of Signature Looks; straightforward workflow; intuitive photo management
— No camera profiles; doesn't support tethered shooting
---
Topaz
+ Very good HDR editing tools powered by AI
— No photo management functionalities
---
Photolemur
+ Quick and smart automatic features; easy to use
— Lacks functionalities for professional photo editing
— Discontinued
---
Adobe Lightroom
+ Cloud storage and access from different platforms; allows for editing and sharing on the go
— Requires a monthly subscription and additional plugins for specific functionalities
---
DxO PhotoLab
+ Excellent camera compatibility and optical corrections
— Missing automatic image enhancement; requires time to learn and practice
---
GIMP
+ Free photo editor with graphic design functionalities; available for Windows, Mac, and Linux
— Not specifically developed for photography; few filters and presets
---
Capture One
+ Tailored for many camera models and provides high color accuracy
— Expensive, and changing camera manufacturers may require a change in software
---
Affinity Photo
+ Creative tools for painting over photos; works well with large images
— Doesn't provide digital asset management
---
Conclusions
ON1 Photo RAW brings amazing new features such as AI-based adjustments and efficient image management. It keeps up with all the trends in image editing and provides a complete solution for professional photographers.
Nevertheless, ON1 has powerful competition you should consider. Photo editors like Luminar and DxO also deliver professional edits and a neat workflow. Capture One brings more accuracy by tailoring its products to cameras from specific manufacturers. GIMP is free, and it's hard to beat that. The photo editing market is growing and bringing you outstanding tools to realize your artistic vision.
---