Must Have Photoshop Plugins (Free & Paid)
Adobe Photoshop is one of the most powerful photo editing programs available and it has been the established industry standard for many years. While other photo manipulation programs and graphics software offer similar features, Photoshop has always been on top.
Due to its popularity, many developers have created plugins to extend Photoshop's functionalities. These plugins have a wide range of features, from brushes and textures to presets, filters, and HDR merging. To show you exactly how many things you can do with Photoshop, we've gathered the best plugins from companies like Skylum and Topaz Studios in a list dedicated to professional photographers.
---
How Can Plugins Improve Photoshop?
First you need to understand how you can benefit from using plugins with Photoshop.
The best Photoshop plugins aim to improve your efficiency and allow you to work faster and get things done in less time. For example, let's say you use Photoshop plugins that include presets and filters. Instead of spending hours editing images and creating special effects, you can simply use these filters and achieve similar results in just seconds.

Or let's say you install a plugin that does automatic photo retouching. Instead of making selections, removing noise, and adjusting every parameter of your photos, you can use the plugin's automatic feature and transform all your photos using the same style.

Photoshop plugins provides a lot of options and allow you to be creative. You have so many tools to play and work with that the possibilities become endless.
---
Best Photoshop Plugins for Photographers
The following list includes Photoshop plugins that cover a wide range of functionalities, from photo effects and filters to tools dedicated to black and white photography. We believe these plugins represent the best you can find for Photoshop and can boost your photographic editing skills: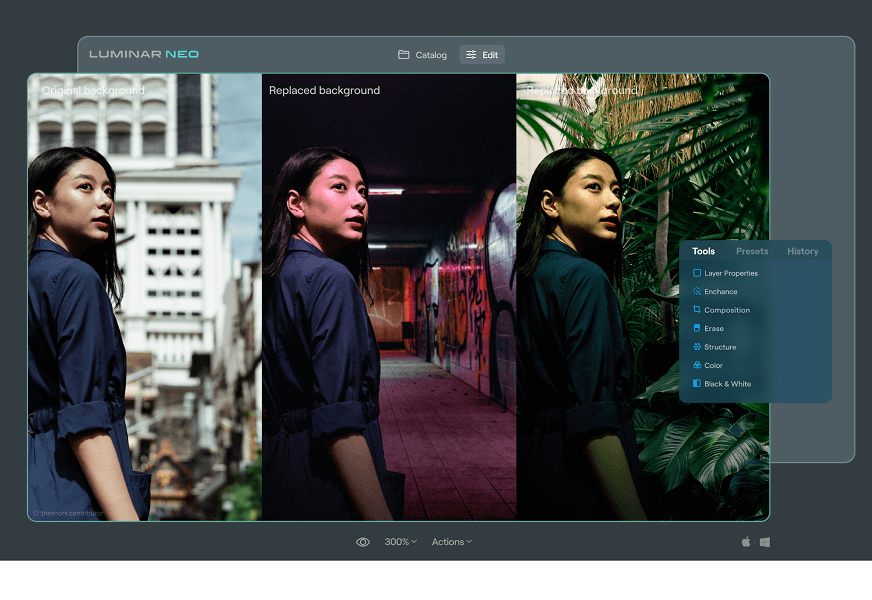 Some of the best Photoshop plugins are developed by Skylum. Skylum has a long history in creating photo editing software. Skylum's main product – Luminar can be used as standalone software and is available for Mac and Windows.
Luminar is a plugin for Photoshop, Lightroom, Adobe Elements, and Photos for Mac. It combines classic image editing with Artificial Intelligence (AI) methods and provides unique tools for enhancing and transforming your images. Luminar works with layers and masks, provides a lot of filters that can be mixed and adjusted, and workspaces for different types of photography and skills level.
Among its best features is the Accent AI filter that automatically improves any type of photo by adjusting color, tone, depth, and details in a single action. Accent AI can detect faces and people and adapt the adjustments accordingly. Another AI based filter is Sky Enhancer, which automatically enhances the sky by adjusting color and contrast. Other great filters provided by Luminar are Smart Tone, Golden Hour, Structure, B&W Conversion, Foliage Enhancer, and Clarity. In addition, Luminar provides exclusive Looks that transform your photos' atmosphere and style.
---
Creating a mask in Photoshop is a difficult yet important task. Masks are used to cut a photo into sections or apply effects and filters to specific objects. Vertus Tech has created the Fluid Mask 3, a Photoshop plugin that provides a unique level of control and accuracy over masks. It makes tasks like cutting out an object from a picture very easy. It works well even with tricky details such as hair and fabrics. Many photographers say it's the best cut out masking tool on the market.
---
Alien Skin produces several award-winning Photoshop plugins available for Mac and Windows. They have specific functionalities and are dedicated to photographers and artists.
Exposure X7 is the best of them. Exposure is a delicate aspect of photography and adjusting exposure is one of the most important features of a photo editor. Exposure X7 is an expert in exposure control but it provides other interesting features too. Among its features are adjustments for overall exposure, highlights and shadows, saturation, hue, and brightness. You can improve image quality using noise reduction and sharpness tools. Finally, Exposure X7 provides great photo management features and a neat workflow.
Blow Up is a Photoshop plugin developed by Alien Skin and dedicated to professional image enlargement. It aims to deliver sharp images at any size and provides CMYK support and a wide range of standard paper sizes for printing services. Blow Up is easy to use and efficient. Its quality tests show high quality improvements versus Adobe Photoshop resize function. Blow Up allows you to resize up to 300, 000 pixels per side and includes paper standards for Europe, US, and Japan. It can be bought with Exposure X7 Bundle at a special price.
Snap Art provides creative tools that allow you to transform your photos in artworks. You can recreate multiple artistic styles gathered from centuries of art history. Snap Art has a neat interface and a smart search engine that allows you to find the style you need in seconds. You can choose from a wide variety of presets and fine-tune them to create your unique artistic vision. Some of the most popular choices are Crayon and Watercolor categories but creativity has no limits.
---
Topaz Labs are well-known for their excellent range of Photoshop plugins. They offer a wide range of high-quality plugins for professional use. Topaz Clean, for example, is an excellent tool for smoothing effects with edge and texture control. Topaz Lens Effects provides a multitude of awesome effects such as motion blur, color filters, bokeh, and vignette. The entire list of plugins developed by Topaz Labs includes:
Topaz B&W Effects
Topaz Clean
Topaz Lens Effects
Topaz ReMask
Topaz ReStyle
Topaz Star Effects
---
The Infinite Color Panel is a color grading plugin for Photoshop. It's dedicated exclusively to color adjustments and can be used to generate stunning and vibrant photos bursting with color. It also provides many automatic and random generated presets.
Among its features are basic color adjustments like:
– curves
– color balance
– selective color
– gradient maps
– color lookup
but also more sophisticated tools like color groups, customizable randomization, and harmonize color tone.
---
Editing portrait photos can be very time-consuming. You have to take care of every detail and look for any imperfections. PortraitPro reduces your stress by providing filters and tools that retouch portraits in seconds. Among its best features are skin smoothing, makeup tools, advanced layers, face, age, and gender detection, customizable presets, and Artificial Intelligence based adjustments.
The skin smoothing tool removes any blemishes and imperfections. It removes even wrinkles, which makes it perfect for professional portrait shots. In addition, the makeup tool allows you to apply simply makeup to your subjects such as lipstick and eye shadows. Finally, PortraitPro provides an advanced layers management tool that makes really easy removing background, adding watermark or logo, and overlaying images.
M1/M2 chip support added.
---
The Nik Collection is a set of plugins developed by DxO. It includes seven plugins with different functionalities. Nik Collection includes:
Color Efex Pro
Silver Efex Pro
Viveza
Analog Efex Pro
HDR Efex Pro
Sharpener Pro
DFine
DFine, for example, is dedicated to noise reduction. It allows you to remove background noise without affecting image quality. Silver Efex Pro plugin provides conversion and editing for black and white photos. It also offers darkroom styles to create amazing monochrome images.
---
8. Optics (by Boris FX)
Optics offers many photo effects and Photoshop tools in a catalog that includes ten Photoshop plugins. The most impressive is Rays, a plugin that allows you to add sunrays into your pictures. It has amazing results when used in photos with natural light. PhotoCopy is a plugin that allows you to use over 200 presets to style your photos. It also allows you to copy attributes from one image to another.
Light is a plugin that allows you to add a source of light to your photos. It uses the gobo libraries created by Rosco and Gamproducts and gives you access to light effects used in theater, television, and movies. Light provides almost 2, 000 gobos, diffuse and fill light, fog and glow effects, the possibility to create your own effect and gobo, layers, and masking tools.
The other plugins offered by Optics are DFT, EZ Mask, Film Stocks, Markup, Power Matte, Power Stroke, and reFine. They are available for Mac and Windows.
---
Filter Forge has recently released a new version. It's available as standalone software and as a Photoshop plugin and provides thousands of photo effects, generates textures, and produces render maps. In total, you have access to over 12,000 different effects and textures.
Filter Forge has an online filter library, allows you to apply different filters or filter settings to the same image and see the results in separate tabs, and provides a filter editor for you to create your own effects.
The textures offered are fantastic and cover a wide range of natural and man-made materials such as fabric, metals, and woods. Moreover, you can apply some awesome photo styles to your images like the watercolor effect. Filter Forge is really easy to use and supports the latest versions of Mac and Windows and Photoshop.
---
PSKiss (Photoshop Kiss) is a superb developer of the best Photoshop plugins. They offer a multitude of different best plugins from image filters and photo effects to black and white filters and color profiles. If you look through their shop you can see just what exciting Photoshop plugins you can find.
The Night Palettes plugin, for example, gives you a range of pre-set edits suitable for creating gorgeous night shots. Alternatively, the Mono-Tone 1 Presets are perfect for marketing and artistic shoots – you can convert your images into a myriad of mono-tone styles. Finally, another example is the Preset Bundle for Lightroom and Photoshop. This contains some excellent portrait filters that can add extra depth to your human-based photos.
---
If you want to create promotional material, artistic shots, or marketing products you need to add style and substance to your photos. You can add textures, borders, special effects, and text. Kubota Dashboard provides over 600 actions, borders, and textures.
Among the features of Kubota Dashboard are over 400 effects for editing color and monochrome images, retouching photos, and adding special effect, batch processing, smart searching tools, marking favorites, and export options.
For example, Texture Tools Industrial is a fantastic photo filter set that can transform your photos into something unique. There are 50 textures to choose from and each of them represents a different metal surface such as Barium, Bezerk, Zinc, Xenon, Uranium, Spin, and Sulfur.
In addition, you can adjust opacity, tone down the color, and fine-tune the filter anyway you want. You can buy just one filter, a set, or buy a subscription that gives you full access to Kubota resources.
---
Working with layers is essential in Photoshop. They allow you to manipulate different objects and parts of your photo without affecting the entire image. Layrs Control 2 is a plugin dedicated to layer management. If you are working many layers in a single project, this plugin is very useful to you.
Layrs Control 2 provides several different tools that allow you to edit layer names, remove unused layers, flatten all effect layers, delete empty layers, rasterize smart object, search for similar folder, and convert to smart objects.
---
Guides are an important part of Photoshop because help you align image elements. Moreover, they help you create well-balanced images and make sure you have straight vertical and horizontal lines. Griddify is a simple but effective free Photoshop plugin that allows you to add guides and grids to your Photoshop workflow.
Griddify is easy to use and fast. You can apply all sorts of grids in seconds. It helps you achieve accurate compositions and clean edits. Griddify provides a wide range of grids that match different types of photo formats such as wide angle and portrait.
---
Image noise is a big problem for photographers. Background noise makes a photo look grainy and low quality. Ximagic Denoiser toolbox helps you eliminate background noise and provides seven noise reduction tools: Median, Gauss, DWT (Overcomplete Wavelets), CWT (Complex Wavelets), DCT (Discrete Cosine), NLM (Non Local Means), and Non-linear diffusion. Ximagic Denoiser allows you to fine-tune each setting and decide the strength of the action. It delivers high quality pictures.
Ximagic also develops plugins for image quantization (Quantizer) and for gray and color dithering (GrayDither, ColorDither).
---
Mehdi plugins are a collection of free Photoshop plugins available for Windows. They include filters and photos effects designed by a French development company. Filters have simple functions that transform your images in multiple ways. Our favorite from this free Photoshop plugins set is the Contrast Balance 1.1 plugin. It allows you to edit the contrast of your photos and offers many sliders to fine-tune the end result. Other plugins included in this set are:
Absolute Color
Curves 3
Edges Fix
Grain Natural 2
Posterizer
Eraser Classic
Absolute Color, for example, is a simple but effective Photoshop plugin that transforms the color of your photos. It allows you to selectively change the color of objects by restricting the tints of the image to one of the six sectors of a hue wheel. The filter has the possibility to protect the luminance and invert the hue.
---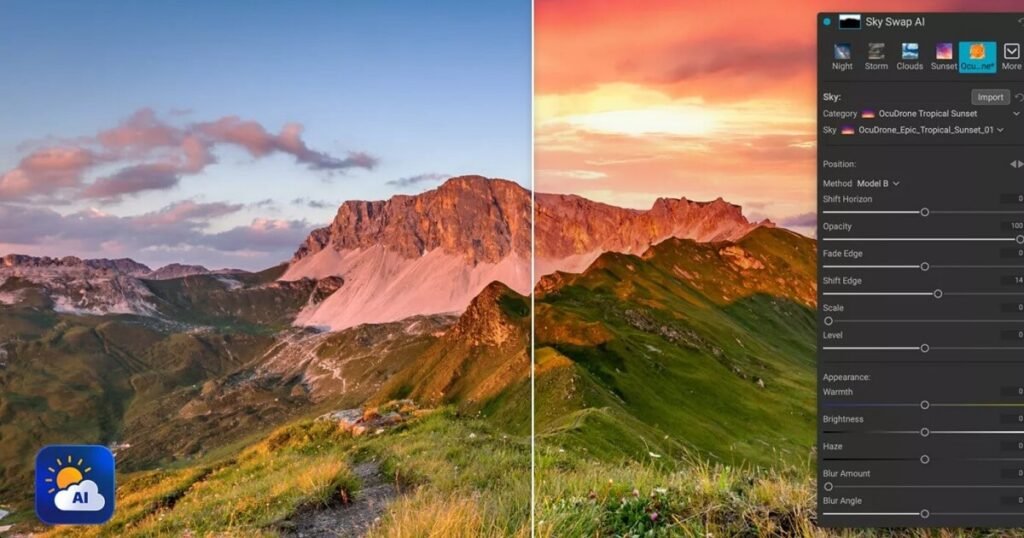 ON1 develops its own powerful photo editing program but also some pretty cool Photoshop plugins. ON1 Effects and ON1 Resize are powerful Photoshop plugins that transform your editing workflow.
ON1 Effects is a collection of photo effects, filters, presets, and LUTs. Filters are grouped into different sections such as landscape, black and white photography, faded & matte, film and hipster. You have excellent control over each filter and you can adjust all their parameters.
ON1 Resize is the essential image resizing tool. If you are working with different print media, you need this plugin. It allows you to resize your images using a wide variety of resolutions in seconds.
---
Auto FX Software develops a fantastic Photoshop plugin called GRFX Studio Pro. It's an excellent piece of software, available for Windows and Mac. It's optimized for speed and power and makes editing with Photoshop a simple task.
GRFX Studio provides over 1275 photo effects. They are ready for one-click application and and transform your photos into something unique. Among the best filters are effects for black and white photos, focal effects, vignettes, light rays, sepia, and color expressions. They are grouped in categories and can fulfill a wide range of photographic styles.
---
Ultimate Retouch Panel is a Photoshop plugin dedicated to portrait retouching. It provides more than 200 functionalities including frequency separations, fast retouching methods, local retouching tools, over 60 presets, dodge and burn tools, and professional retouching tools. Ultimate Retouch Panel allows you to quickly remove skin imperfections, adjust skin tone, create special edits for weddings and family photos, and enhance fashion and commercial photos.
You can use it for both color and monochrome images. It provides masks and gradient maps, color correction, a HDR kit, and plenty photo effects for portraits, fashion, and commercial photos.
Ultimate Retouch Panel is available for Windows and Mac and comes with comprehensive tutorial and 18 videos explaining how to use it.
---
ParticleShop is a brush Photoshop plugin powered by Painter. It provides dynamic brushes for pressure sensitive tablet, touch screen, or mouse users. The wide range of brushes will inspire you to create unique artworks.
ParticleShop offers 11 build-in custom brushes and additional brushes packages for specific needs. The brushes follow your moves and allow you to create fluid strokes. You can achieve thick pronounced strokes, luscious smears and pointillist looks.
---
PSD Recover is a free utilitarian Photoshop plugin that allows you to use a layer from a PSD/PSB file. You don't have to open the entire Photoshop project, which saves you time. Also, PSD Recover allows you to use layers from newer versions of Photoshop than the one you own it. This is a great feature because, as you know, you can't open PDS files created with a newer Photoshop version. Moreover, PSD Recover can get you layers from corrupted files.
PSD Recover is available for Mac and Windows.
---
Developed by Rico Holmes, RH Hover Color Picker is a fast and modern color picker embedded in a Photoshop plugin. It has a neat interface and hides itself when it's not needed. All you have to do to get it back is hover over its minimized version. If you want to see it all the time, just check the "Always there" option.
RH Hover Color Picker provides a top widget that allows you to choose hue and vibrance and sliders for controlling hue, saturation, brightness, or RGB values. It's designed for photographers, visual artists, and designers who want cool and fun tools.
RH Hover Color Picker is available for Mac and Windows.
---
GuideGuide is a Photoshop plugin that allows you to add grids and guides for clean layouts and efficient workspace. You can add guides based on selections, canvas, or artboards, create custom grids, mark edges, and save grids for future use or sharing with others. It also provides standard systems such as golden ratio, Fibonacci, bootstrap, and baseline.
GuideGuide is available for Mac and Windows and compatible with Photoshop, Illustrator, Adobe XD, and Sketch.
---
SuperPNG is very useful if you work with PNG files. It's free and open source and provides full control over the file format and the alpha channel. It provides tight lossless compression, variable compression, meta data saving, ICC profile embedding, and smart quantization.
SuperPNG is available for Mac and Windows and fully supported by modern web browsers.
---
Pexels Photoshop plugin is developed by Pexels to improve its users' workflow. It gives you access to Pexels directly from Photoshop and allows you to search images through the library. Your activity is automatically synchronized with your Pexels account so you can easily find your favorite pictures. Pexels images are loaded as new layers and don't disturb your previous edits.
Pexels Photoshop plugin is free and available for Mac and Windows.
There you have it: a comprehensive list of Photoshop plugins for photographers. You can try more than one and decide which option is best for you. Among them there are free plugins and more complex ones, but all of them have the same aim: to save you time, make you efficient, and give you creative ideas for your projects.
---