Google AdSense Alternatives
When it comes to monetizing a website, using display ads has been one of the best ways to do so. Essentially, what you do is display ads on your webpage and then whichever advertising tool or platform you are using for those ads pays you based on the number of visitors your page gets. This is a great way to make some money from a website. For a long time, people have used Google's AdSense for this purpose. It was launched back in 2003 and quickly became a very powerful and popular advertising tool for websites. Despite all of its successes though, there are some very good reasons for the existence of AdSense alternatives.
---
Why Use an AdSense Alternative?
There are some reasons why you might want to look into AdSense alternatives for your website. Some of these include:
·Difficult Approval Process
AdSense is known for its difficult application and approval process. A lot of applications are rejected every day for not meeting Google's strict regulations. While this is good to maintain a certain quality, on the one hand, on the other, it is quite frustrating for new websites.
·Banned Accounts
A lot of websites get banned from Google's platform for not meeting the terms and conditions or if they do something that Google doesn't agree with, even if unintentionally. Google is also known for banning accounts for a single invalid click on an ad displayed on your own site. In such a case, you will have to look elsewhere.
·Lack of Variety
Google doesn't offer too much customization when it comes to how and where you want to place ads on your pages. If Google's contextual text ads do not fit your page, well, you have to just live with it. Many AdSense alternatives offer other types of ads and also customization options like changing colors and sizes of ad units, etc.
So, whatever the reason may be that you're considering shifting from Google's AdSense or just want to start out with another ad platform, you have plenty of AdSense alternatives to choose from.
---
The Best AdSense Alternatives
One of the top AdSense alternatives, Adversal is a good option for those who want native ads on their website. Setting up ads is very easy with this tool and takes a few minutes of your time. Once done, Adversal will start serving up relevant ads on your web pages in no time.
With this tool, you will have the option to show normal display ads, video ads, or native ads. It also has a tag management system that lets you filter ads, as well as keep your site safe from frauds. To get started with Adversal, your website should have its own domain name and must receive at least 50,000 page views every month.
---
If you don't want to use Google's search results, you can look towards Media.net. This tool uses searches from Bing and Yahoo!. That's not the only difference between this and AdSense though. Media.net is known to provide higher RPM (revenue per thousand impressions) than Google's platform. What this means is that users can potentially earn more with Media.net than with AdSense.
You will also gain access to high-profile publishers from all over the world and be able to customize the ads that are placed on your site. No more bright and colorful ads on your chic and monochromatic website!
---
This is a different type of monetization program. Unlike AdSense, Amazon Associates Program is an affiliate program that lets you put links in your text to certain products. Let's say you have a photography blog and you talk about gear or software. You can sign up for this program and get some affiliate links to the products you wish to feature in your blogs. When you write a post, simply use those affiliate links to link the text in your blog to those products. Whenever someone opens your link to the product page and buys the product, you receive a cut from Amazon.
This is a great AdSense alternative if you have an established website with a decent number of monthly readers who trust your opinion. Amazon had a huge variety of products available so you can find pretty much anything in your blog's niche. This program lets you focus more on your content and how your website looks without having to put up with not-so-pleasant display ads ruining the reading experience.
---
If you want to have a large variety of ads, then RevenueHits might be the right option for you. It offers all kinds of ads like banners, pop-unders, buttons, interstitials, header and footer ads, as well as sliding ads. You can make use of both geo-targeted as well as contextual ads to maximize the possibility of users clicking on ads. However, RevenueHits is one of those AdSense alternatives that are performance-based. This means that users have to take some particular actions for you to get paid instead of just clicking on an ad.
Another great thing about this tool is that it doesn't have a minimum traffic requirement so you can display ads on your new website too if you want.
---
As the name may suggest, PopAds gives users the ability to show pop-under ads on their websites. As a website owner, you will have the possibility to select the minimum bid that you want to accept from advertisers to allow them to show ads on your pages. You can also select the frequency with which the ads are shown. This gives you a good amount of control over how the ads show up and how much you get paid.
PopAds is also great at making payments. You can withdraw as little as $10. The signup process is also very easy and you can be up and running in no time.
---
If you're looking for AdSense alternatives that operate all over the world, then Adcash is a good choice. They offer their services in 196 countries and allow users to easily monetize their websites. Adcash offers different types of ads based on what you want. Whether you're looking for good old banner ads or want some pop-under ads, this tool has got you covered.
One of the best things about this platform is that it can bypass ad-blockers. Ad-blockers are a big problem for websites that use display ads for monetization as they can simply block the ads from being shown to visitors. With Adcash's technology, your website will be able to bypass such ad-blockers, ensuring that your visitors see your ads anyway.
---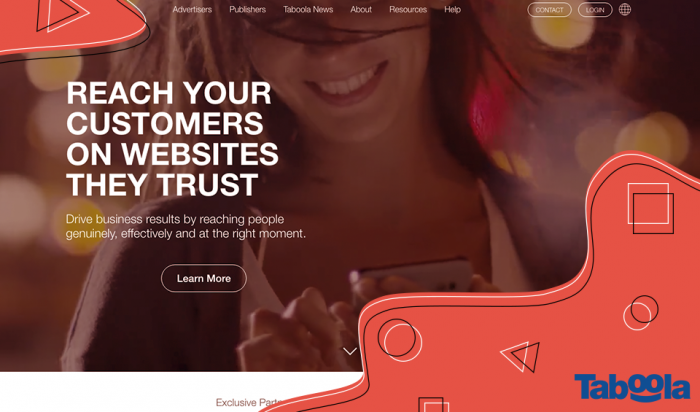 If you have a large website with a lot of monthly visitors, then you might want to look into Taboola. This is one of the most widely used AdSense alternatives for native ads. You can use this platform on your own website and also on social media sites like Instagram and Facebook. Taboola has a lot of premium features like the ability to promote product listings, customizable widgets, and in-feed units, among others. However, the one downside of this platform is that you need to have a big website. To be exact, you need to have at least 500,000 page views to get accepted into the program.
---
Another one of those AdSense alternatives that do not ruin the look of your website, InfoLinks is a great choice for using smart ads that are in-text. You can have some very effective banner ads as well as video ads on your website with this platform and it will not ruin the style of your content. InfoLinks is used by many large websites like Netflix and Virgin Airlines, adding to its stellar reputation. The platform only shows ads that are up-to-date and relevant to your readers, making it a great choice for actually helpful advertisements.
---
Sovrn //Commerce is the perfect choice for those of you who are looking to monetize your site's existing ad links with minimal effort. This tool allows you to automatically create links for various affiliate programs and also to your own products. The program sets this up itself and then starts making payments to your PayPal. This keeps the overall process very simple, requiring very little input from yourself.
You can also use the dashboard to keep an eye on various performance metrics. You can learn where your users go after they leave your website and develop custom integrations to control your monetization strategy in the best possible way.
---
If you own a website where the content is aimed at developers and designers, then you should look into Carbon Ads. This is a highly specific ad-delivery system that provides extremely high-quality ads in tech-related niches. What this means for you is that you get ads that are very relevant to your content and to your readers' interests while your website stays looking great because the ads themselves are good-looking. For your readers, this means that they will see ads that are actually interesting to them, leading to more clicks.
You do have to meet certain criteria to be approved by the platform but once you do, it's a great way to monetize your tech-related website quickly and effectively.
---
One of the best AdSense alternatives if you have a website in the entertainment, software, videos and movies, gaming, dating, or finance niche, PropellerAds offers excellent ad-delivery all over the world. They are widely regarded as a giant in the world of pop-under ads and that is definitely their specialty. However, they also offer native ads as well as push notification ads.
If you want to have some high-quality pop-under ads on your website to maintain its overall look and feel, then this is the right platform for your needs. You will not only get a variety of ad styles and monetization methods but also benefit from a very low minimum payout limit of just $5.
---
If you want to utilize affiliate links for the products or services you talk about on your website but don't want to do all the work manually, you can use Skimlinks to do it all for you. All you need to do is run your website and create content for it while Skimlinks automates the process of adding affiliate links with your commercial content. On top of that, this tool will also enhance the monetization strategies that you're using for your website as well as social media.
---
Bidvertiser is a trusted advertising network that is quite popular as one of the top AdSense alternatives around. With this tool, you can use a number of ad types including native ads, pop-under ads, sliders, banners, and smart links. Users can also decide whether they want to target ads based on locations, channels, or keywords.
Another cool thing about Bidvertiser is that it lets you customize the ads to best fit your website's design. You can play around with the options to decide what the best way to show ads on your carefully crafted pages is, leaving your website looking nice and clean. There is a very low minimum payout limit of $10 and users also get additional revenue for any click conversions.
---
If you have a large website that receives at least 500,000 page views per month, you should really look towards Vibrant Media as your AdSense alternative. This is a popular network that pays high rates to publishers. It can be difficult to get accepted into the program but once you do, it's great! The tool searches your content automatically for relevant keywords and then links these to pop-up ads that show up whenever a visitor points their cursor towards these keywords. It's basically like links which makes it much more likely that the readers will actually follow through to the linked site with a click.
While this is a great way to put ads without ruining the look of a web page, Vibrant Media also offers in-image as well as display ads if you wish to use them. It does take time and effort to be selected into this program but it's a great alternative to AdSense if you can make it in.
---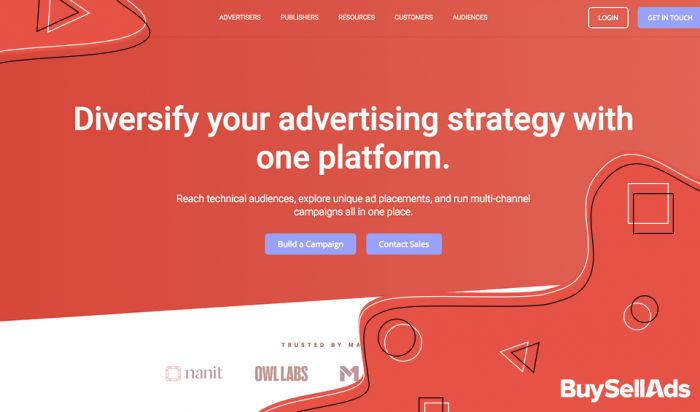 And finally, to round off this list of AdSense alternatives, we have BuySellAds. This is a premium service that offers advertising space on your website only to the right kind of advertisers. That means it offers high-quality and very relevant ads. There are multiple kinds of ads available like display ads, background takeovers, newsletters, text ads, RSS feed ads, and more. Publishers are paid 75% of the revenue that is generated by the ad space.
However, to get accepted by BuySellAds, your website needs to be in top-notch shape. They require a minimum of 100,000 page views every month to start with. On top of that, they also look at your site's PageRank, inbound link count, Alexa score, and other metrics in order to see what quality your site has.
---
Google AdSense Alternatives (Small & Big Websites)
And with that, we conclude our list of the best AdSense alternatives for all kinds of websites. It is important to be aware of the options out there that may benefit your website the most when it comes to monetization. While AdSense might be the most popular advertising network available, it's not always the best. With so many issues plaguing it, especially when it comes to highly strict rules and regulations and so many blocked websites, it might be better for you to look at other options if you wish to monetize your content the right way.
---