Top Places for Awesome Winter Photos in USA
Winter in certain parts of the world can be very cold and sometimes even uninviting. But some of these places can offer some pretty amazing photo opportunities. Photographers can have fun and use snow, frost, and ice as creative elements in their winter photography compositions.
The USA has many extremely photogenic locations that are definitely worth exploring in the winter. Let's take a look at a few of them.
Don't forget to put them on your bucket list for future winter photo adventures!
---
Spring Creek, Pennsylvania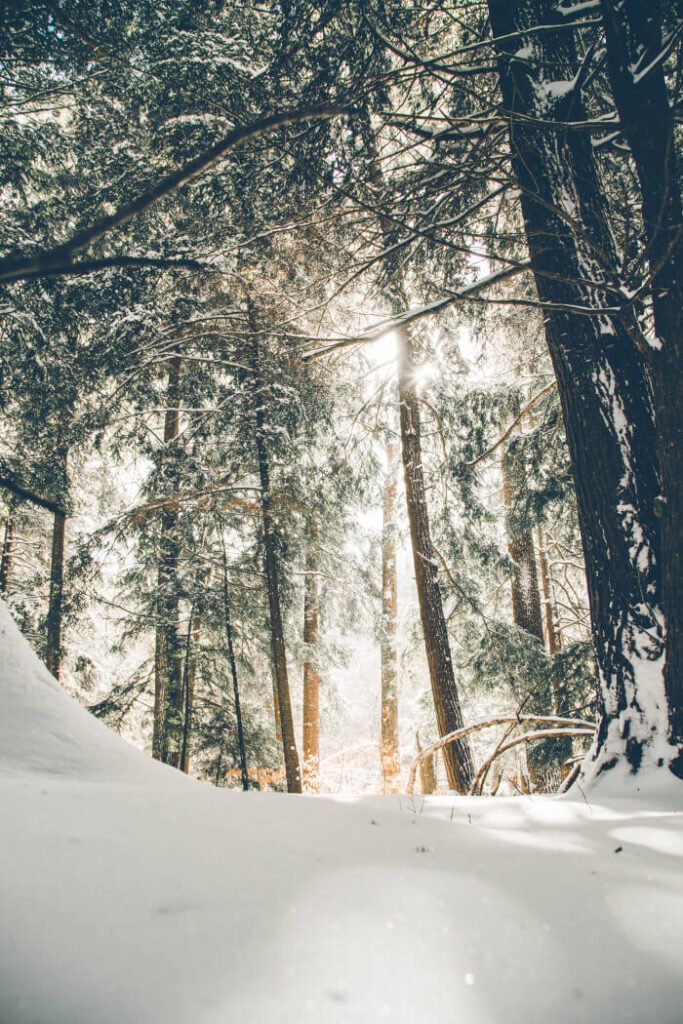 Spring Creek, Pennsylvania, is famous for offering great trout fly fishing adventures and is one of the most picturesque streams in the area. In the winter, with a coat of snow and fishermen with their gear and waders can provide some pretty interesting photo opportunities. 
Photographing moving water can offer some fun photo projects. If you are shooting with a DSLR, try experimenting with a slow shutter speed to make the water look soft and smooth. But remember that if you have moving people in the shot, they will possibly turn out blurry. If you get the chance, head into Spring Creek Canyon for some even more impressive nature photography.
Hint: A tripod for long exposure photography is essential.
Useful info: Keep an eye out for Whitetail deer, Great Horned owls, and other wildlife that are common in the area.
---
Gold Creek Pond, Snoqualmie, Washington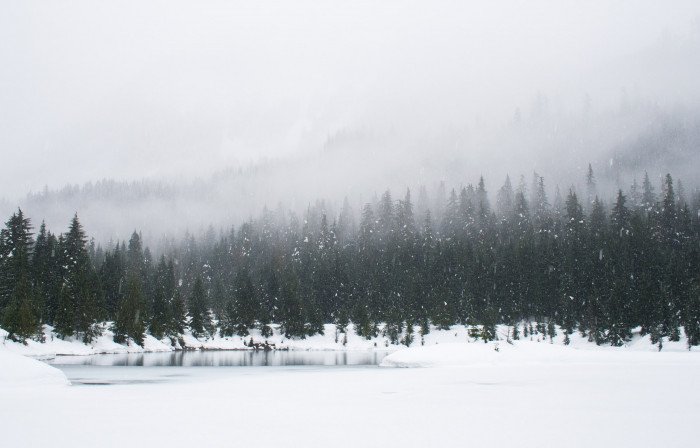 Gold Creek Pond in Washington state is well known for its vast collection of hiking trails. Year-round you can venture into the valley and explore the various flora and wildlife. The area becomes truly magical in the winter with the snow-covered impressive mountain range and valley. The reflection of the mountains on the water is truly a spectacular photo opportunity. Look for details in the water and in your immediate surrounding area. 
Hint: Why not rent some snowshoes and make it an even more fun adventure!
Useful info: You will need to purchase a recreational pass to enter the area.
---
New York City
The Big Apple gets the occasional snowfall and even the rare winter snowstorm that slows it down and gives it a surreal look. Think the iconic yellow taxis driving through the snow-covered Manhattan streets with people all bundled up in winter coats.
Visiting New York City during the Holiday month of December can be absolutely magical with the lights and festive feeling throughout. This can make great photos showing the city's cheerful and inviting atmosphere. Some window displays in the stores on Fifth Avenue become enchanted exhibits and can also provide great photo opportunities.
Fun photo tip: Set a wide aperture and use the many lights of the city as background bokeh in your compositions.
---
Whitefish, Montana
Whitefish is a rustic charm ski resort town located in the Rocky Mountains of Montana. Who says ski resort in the Rocky Mountain range says amazing views and great photo opportunities! The town offers a wide range of winter activities that you can partake in and bring your camera on.
Fun photo tip: Try shooting at dusk when the lights of the town light up and the snow-covered mountains are still visible. You can achieve those great hues of oranges and blues that make photographs look amazing.
---
Chicago, Illinois
Chicago is a very photogenic city and transforms into a wonderful winter wonderland during the colder months. Head to Millennium Park to take photos of the ice skaters or walk down Michigan Avenue to capture the historic buildings. 
From the end of November right into January, the Lincoln Park Zoo Light show is a must see. Capture the ice sculptures and millions of holiday lights. Bring a tripod and experiment with long exposures and other fun techniques to get unique and interesting images.
Helpful tip: Look for small details all around you. Sometimes less is more in photography. 
---
Yellowstone National Park, Wyoming
The mixture of cold snow and steaming geysers makes this location a true dreamlike winter wonderland. Old Faithful Geyser is accessible by snowmobile, skiing, or snow bus and offers spectacular sprays of steam that provides material for great photos. 
Some tour companies offer safari type multi-day trips where you can photograph wolves and other animals in their natural habitats. Elk and Bison migrate during the winter months, so keep an eye out for these majestic creatures. Imagine capturing thousands of Elk trudging over the snow-covered terrain!
Helpful tip: Be careful of your camera and your gear when photographing in this type of environment. Keep them safe from moisture and condensation. 
---
Yosemite National Park, California
Yosemite is a pretty popular area for tourists year-round, but the crowds slow down in the winter months. That doesn't mean that it gets boring. On the contrary, the area offers great nature, wildlife, and landscape photography opportunities at this time.
Horsetail Falls in February is home to a spectacular occurrence when the setting sun makes the falls glow as if they were on fire. This is a yearly event and many photographers flock to the region to capture those special shots. Yosemite Falls sometimes freeze solid and can also provide some interesting photo opportunities.
There's a reason renowned landscape photographer Ansel Adams enjoyed photographing in this area so much. His famous black & white iconic photo of Yosemite Valley in the winter is a true testament to the beauty of the place.
---
Here are a few useful tips and tricks when photographing in the winter.
1. Remember to protect your camera, lenses, and gear from the extreme cold and possible condensation. Place your camera in an airtight plastic bag before returning indoors or into a warm environment. Leave it in the bag until it reaches room temperature. This will avoid harmful condensation to form inside the camera.
2. Always carry spare batteries because the cold temperature makes batteries drain much faster than usual.
3. Look for ice, textures, frost, and reflections to create unique shots.
4. Remember to dress accordingly so that you are comfortable. You don't want to end your photoshoot before you get all your shots.
5. Stay safe and check local news about avalanches, closed roads, and other dangers in mountainous areas.
6. Snow is not an easy element to expose. Your camera will try to over-expose in some situations and under-expose in others. If the snow in your images turns out looking yellow or blue, try an editing software like PhotoLemur to adjust the exposure and make your image perfect.
7. Have fun editing some of your shots into black & white images with PhotoLemur photo editor. Give your photographs that mysterious and monochromatic look and bring out the Ansel Adams in you!
 So next time you head to some snow covered location why not take advantage of some of the unique elements to create some fun shots. Show us your favorites by posting in the comments section. We would love to see your winter wonderland photos.
---